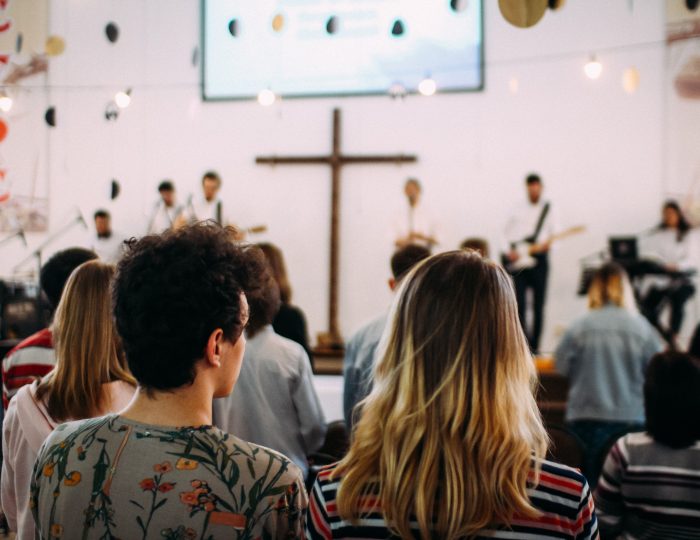 Gathered worship shapes us | The basics of whole-life worship (3/5)
In this blog series, Sam and Sara Hargreaves, co-authors of LICC's Whole Life Worship resource, explore how the worship we offer in church can shape the way we worship in all the variety of our lives – and how churches can grow a culture that equips people to act, speak, and work in worship, every day of the week.
We explored in the previous post how everything we do can be worship to God. All of our lives can honour God as we live his way, in his power and for his glory. But as much as you might warm to that idea, it may leave you asking: what does it mean for our church services? What is the significance of gathered worship?
Part of meeting to worship is about expressing our hearts. It is great to come together and sing joyful praise, pour out our hearts in lament, or cry out in intercession. We love this aspect of gathering. But as well as being expressive, worship is also formative. We are shaped by what we do when we gather. The songs we sing, the words we pray, the ways things are introduced and framed – these may have minimal effect in the short term, but over months and years they shape us. Like the steady drip of minerals which, over time, form stalactites and stalagmites, so the steady drip of gathered worship forms the way we see God, his people and his purposes for the world.
So, imagine what's formed in people if…
Every week, the service begins with an invitation to 'leave your problems at the door.' This forms a view of worship as escape – a place to hide for an hour or so from the harsh realities of everyday life. We imply that God doesn't care about life outside of church, or that church's main purpose is to take us out of the world.
Your church only ever commissions overseas missionary and only prays for those in paid Christian ministry. This disempowers hairdressers, plumbers, accountants, unemployed or retired people, and more – discouraging them from seeing their vocations as a call to worship.
The prayers we pray in church are only ever about church business and events, and not about the suffering we see in news reports, or the issues of our local community. This shapes people who are less able to respond prayerfully to the issues they face Monday to Saturday.
The songs we sing never acknowledge the worship we engage with outside the church doors. Ignoring this reality perpetuates the idea that we only really meet with God when we're singing Christian songs.
Put more positively, consider the powerful impact if your church's gathered worship consistently affirmed the value and importance of life and worship outside the sanctuary. If your songs, prayers, imagery, and actions gently reiterated the biblical truth that the earth is the Lord's and everything in it (Psalm 24:1); that when we let our light shine before others in the world, they may see our good deeds and glorify our Father in heaven (Matthew 5:16); that we can do our work with all our hearts, because ultimately it this is worship to God (Colossians 3:23).
This takes a mindset shift for those of us planning and leading worship. We are not expecting you to dramatically change your style, tradition or service structure – instead, we're inviting you to view your current style in a fresh light. In the next couple of blogs we'll give you practical frameworks and resources to help every church form whole-life worshippers.
—
Sam and Sarah Hargreaves
Engage Worship