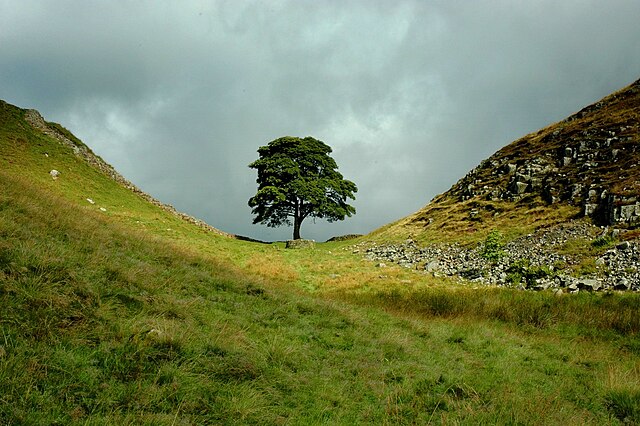 Sycamore Gap outrage: how to respond to cultural vandalism
The nation awoke on 28 September to the news that the iconic 'Sycamore Gap' tree on Hadrian's Wall had been illegally felled.
The news of its demise was met with an outpouring of righteous fury across news channels and social media platforms. This was a crime committed with no obvious motive, against a much beloved natural feature. This was cultural vandalism.
And the strong reactions have revealed how much cultural vandalism stirs emotions.
Flowers have been laid at the scene, thousands upon thousands of comments have been left condemning the act, and social media has gone to town thinking about the kinds of consequences those allegedly responsible should face.
For the 16-year-old boy and a man in his 60s who've been arrested, recommended punishments have included enforced community service, lengthy prison sentences, and, in some cases, even violence.
The 'mentality of the mob' is something that has been previously discussed in Christian forums, with the emphasis on how Jesus-followers should choose to react and behave when the swirling tide of public opinion is raging.
Luckily, we have a remarkably suitable example from Scripture to turn to. When Jesus arrives in Jericho at the beginning of Luke 19, he looks up into the branches of a sycamore tree on the side of the road and sees a small man.
Zacchaeus may well have been accused of first-century Palestinian cultural vandalism. Zacchaeus was a tax collector for the Romans. And his reputation among the community made Jesus' decision to go and eat at his home more than a little surprising!
What does cultural vandalism look like in your context, in your neighbourhood, your workplace, or even among family and friends? Where do individuals exhibit reckless conduct at cost to the wider community, workplace, family unit, or friendship group? A colleague who trashes a project people have poured time and effort into, a child who goes out of their way to make their sibling's life much more difficult, or a community art project defaced with graffiti.
For Zacchaeus, Jesus' heart of compassion and desire to see him saved leads him to take the unpopular course of action – drawing close. In the face of people's wrongdoing, we must make effort to view the individual as our heavenly Father sees them, deeply, deeply loved.
And as a result, Zacchaeus is transformed, making restitution for wrongs, and committing himself to serving the common good. In the face of cultural vandalism, what could that sort of transformation look like on your frontline?
—
Sam Brown
Church Advocate, LICC