A scoop of joy and a scoop of justice: an interview with ice-cream seller Sally Murray
I scream, you scream, we all scream for ice cream… But Sally Murray's not just screaming for ice cream. Through her ice cream social enterprise, she campaigns for justice, using her voice to speak up for those who have no voice by creating community, employment, and stability for survivors of modern-day slavery. She delights in using the joy of ice cream to facilitate the joy of freedom. Read on to discover more of her story. 
Until a few years ago, Sally was living in Clapham. She was working as a physio, and her husband, Gav, was a minister. They were living in a house owned by their church and their children were settled in local schools. She'd always known she wanted to be a voice for the voiceless – to 'speak up and judge fairly, to defend the rights of the poor and needy' (Proverbs 31:9). She thought that would happen through their work in pastoral ministry, but a string of God-incidences, prophetic words, and pictures later, she and her family had upped sticks and moved hundreds of miles away from friends to Derby, the UK city furthest from the sea, to start an ice cream business.  
Crazy? Brave? Inspired? Well, here's the scoop… 
'Since he was a little boy, Gav's always been an ice cream lover. His favourite flavour is chocolate. When we make it, it's like eating frozen ganache – and we all know there's nothing more delicious or indulgent than eating icing out of the bowl!'    
Fast forward to 1999, and Gav was gifted an ice cream machine and a Ben & Jerry's recipe book for his ordination. It was a personal and prophetic gift. Without taking a breath, he began to make big batches of ice cream for the family to enjoy. A few years later, when he was serving up ice cream for their eldest child's birthday, he quipped, 'If I ever had a shop, it would be an ice cream shop and it would somehow help the fight against trafficking. You know, for social justice.'   
And, as the children were inhaling his super sweet creation, Sally immediately responded, 'We could call it "Just-Ice"!'   
Their hearts skipped a beat, and a dream was born. But the business was still several decades away from becoming a reality. Around 10 years later, Sally attended an event about modern-day slavery – and only because a friend had double-booked herself and there was a spare spot. But she left gobsmacked. Her life would never be the same again. 
'We live in a fallen world. That means I hear things that sadden me all the time. But this was different: my heart was truly broken, and the Spirit stirred something within me. I couldn't believe there were 24.9 million people held in slavery across the the world, and that it was happening in towns and cities in the UK, too. When I got home, I looked at my kids and couldn't bear the thought that children like them were being raped and trafficked. I knew I had to do something. 
And so, Just-Ice was born. It's a social enterprise that supports survivors of modern-day slavery and trafficking through employment, brings joy by selling delicious homemade ice cream, and joins in the global campaign to stop children being recruited as child soldiers. The original shop is based in Derby. But Sally and Gav's dream is that there'll be a Just-Ice in every UK city with a safe house – this would mean that survivors wouldn't have to uproot themselves to transition from exploitation to employment and could be nurtured in small, compassionate, and caring communities where they're already based. Excitingly, Just-Ice has recently opened its first franchise in Poynton, Manchester.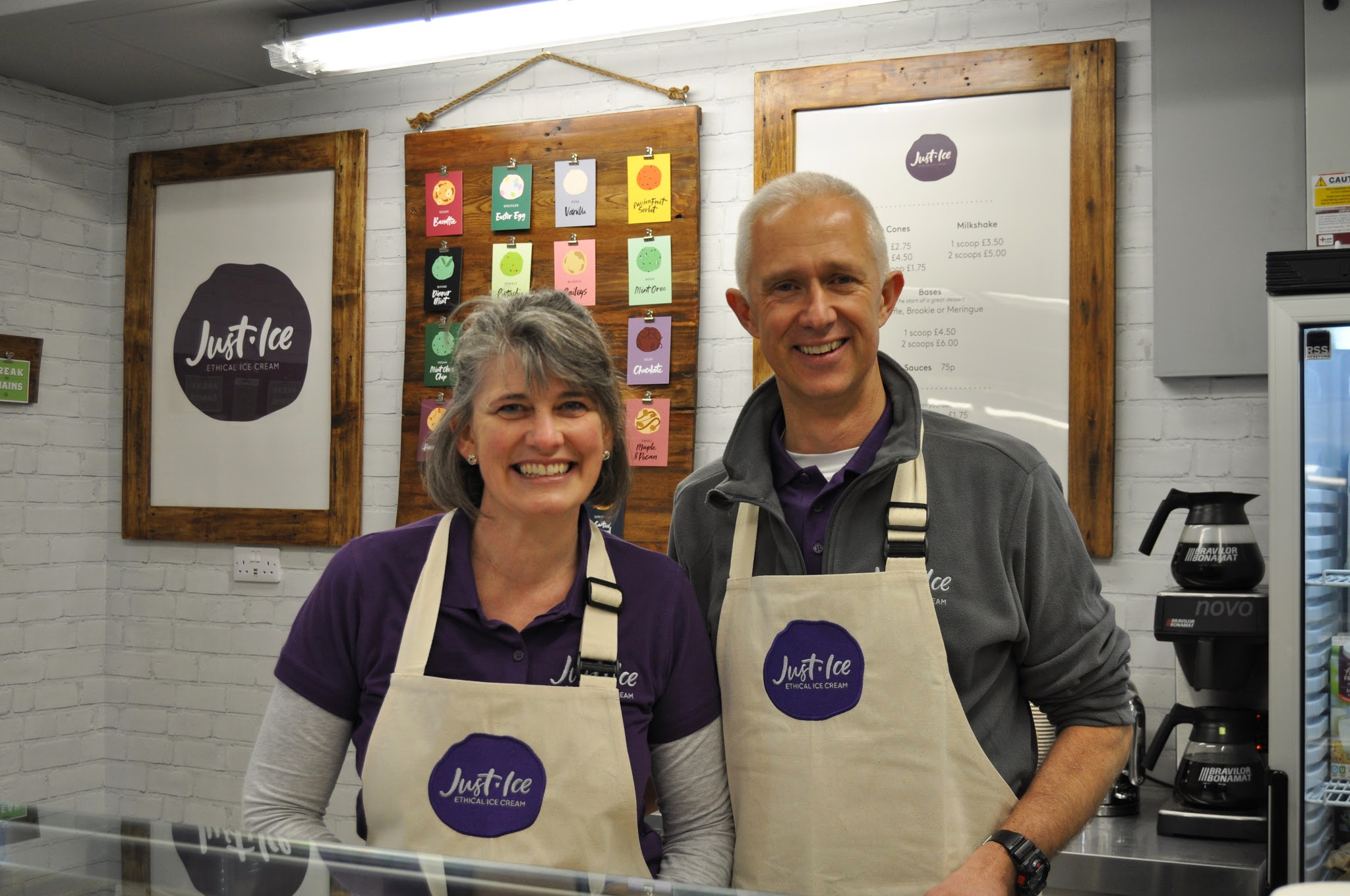 'In human terms, the move to Derby made no sense. We'd lived in London for over 20 years and had a huge network of friends and contacts. But by taking us away from this community, God reminded us that we had to rely upon his provision and not our own strength. And, in his goodness, he's sustained us, placing the people and resources we've needed in our paths at exactly the right time – from lawyers willing to do pro bono work on our behalf to an out-of-the-blue gift of an ice cream trike, which we affectionately named Wilber after the famous abolitionist William Wilberforce. 
'But it's not always been easy. We've had times when our bank balance has literally been zero. And then there was the pandemic, not to mention our topsy-turvey approach to business: for us, people always come above profits. Our business is founded upon four key values: freedom, fairness, friendship, and fun – they're alliterative because I'm married to a preacher! 
'We pay a lot more for our chocolate to ensure the supply chain is slavery-free; we only use Fairtrade vanilla, chocolate, and sugar. And we're a one-life-at-a-time sort of a company. We recognise that finding employment is just one part of rehabilitation – survivors need to be part of a community where they're loved, practically supported, and encouraged to pursue their dreams. That's why we've not scaled up the business, but instead have focused on supporting 10 individuals by providing housing, developing language skills, and offering life coaching and therapy. This is the side of the business I oversee. It's immensely rewarding.' 
Their goal? Self-sustained independence and community involvement. Of course, they'd love for their employees to come to know Jesus, too. But, in Sally's words, 'We're Christians running a business, not a Christian business. And so, whilst we have invited our employees to Alpha, we primarily try and witness through our attitudes and actions. We try to be kingdom-minded when dealing with our employees, extend grace when they're struggling with past traumas and it's impacting their work, and model patience, kindness, and gentleness in our conversations with them. And by God's grace, one of them has given their life to Christ.' 
In addition to giving survivors holistic care and employment, Just-Ice gives half its profits to existing charities who prevent, rescue, and rehabilitate, child soldiers across the world. Shockingly, the UN estimates there are 300,000 children used in warfare – not just as fighting soldiers, but also as cooks, spies, porters, and 'wives' for adult fighters. 
'This horrific exploitation robs the children of their innocence – it's incredibly hard to stop, and equally hard to rescue and rehabilitate affected children, but we believe they still have a future. We want to do all we can to raise awareness and funds to prevent, rescue, and rehabilitate children used in warfare until the practice is eradicated completely. Our long-term goal is to set up our own charity that will do this directly, working with local partners. Watch this space!' 
And, as well as social justice, they're committed to caring for God's creation and are passionate about climate justice, acknowledging that climate change has a disproportionate impact on the poor and vulnerable.  
'That's why we're working towards a carbon neutral footprint – a recent win was swapping our ice cream spoons for compostable paper spades!' 
So, Sally and Gav are mouthpieces for truth and justice, speaking up for the oppressed and working with God to bring an end to slavery. But they also wholeheartedly believe God cares about ice cream. Why? Because it's fun and sparks joy. 
'We love using the joy of ice cream for the joy of freedom. We're up for a chat or a laugh with our team and customers at any time. We have a whole lot of fun.' 
By serving up delicious ice cream with a smile, Sally is bringing the joy of the Lord to the people she meets. She's also faithfully working with Jesus to transform lives – to bring his healing to broken lives, to restore dignity and hope for those who've been held in slavery, and to make Derby more like heaven. May the Lord continue to bless her business for the good of all and his glory.
Sally was speaking to Sophie Sanders, Marketing & Communications Executive, LICC  
If you're ever in Derby, drop by 'The Hatch' on the edge of Darley Park to sample some of Just-Ice's delicious ice cream… Cosy Cappuccino, Luscious Lemon Cheesecake, Melting Malteser, Serious Salted Caramel, and Tempting Tiramisu are just a few of their mouthwatering flavours! And if you'd like to read more about their Christ-centred approach to business or the need for Christians to speak up against slavery, visit their website.