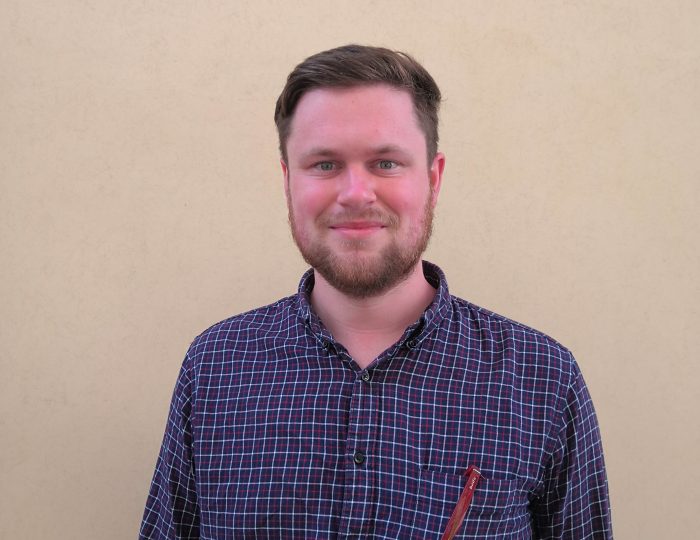 Guiding planes for God's glory: an interview with John Archer
Shape tracking. Sequential memory. Reactive avoidance. Most of us don't even know what these words mean, let alone use them in our daily lives. But John Archer does both. He loves his job as a trainee air traffic controller and uses these incredibly specialised skills to direct and divert planes – carrying ordinary passengers and high-profile figures like King Charles III – thousands of feet above the ground. And he's able to live distinctively and fruitfully with Jesus in these high-pressure situations because he's sustained by the faithfulness of God whose faithfulness reaches to the skies – and beyond.
It's maybe not something you've thought about before, but God cares deeply about air traffic control. But why? Well, this was one of the questions we asked John…
'My work as an air traffic controller facilitates business, trade, tourism, and the safe transit of passengers – all of which help societies to function and flourish.'
And, as Christians, we're called to create contexts for human flourishing in the spaces where God's placed us: to make his world more like heaven by helping individuals and communities to thrive by facilitating justice, peace, joy, order, and provision. And air traffic controllers play a crucial role in this God-given mission.
When you look up, there seems to be bucket-loads of room for planes in the sky. But the reality is there are more than 30,000 flights crossing the northern European airspace every day. A lot of planning is required to ensure each plane can get safely from A to B. And that's where air traffic controllers come in: they manage traffic flows, help pilots navigate the highways, and find solutions when journeys are impacted by unforeseen circumstances.
But what does that look like day-to-day?
'The Maastricht Upper Area Control Centre (MUAC) is one of the busiest air-spaces in Europe. It manages all flights over Belgium, the Netherlands, Luxembourg, and north-west Germany. I work in the upper air-space – that's for all aircraft in our air-space above 25,000 feet. When you start your shift, the first thing you do is look at the briefing sheet, a one-stop-shop for conditions and events that might impact flight routes. For example, is there a glitch in the system? What's the weather like? Are there any planned military exercises? Are there any strikes?
'Then, when you're on position, you work in pairs. You're either the executive controller, speaking to and directing aircraft via radio, or you're the planner controller, scanning further afield and identifying potential conflicts and coming up with solutions. Together, you ensure there's enough distance between the aircraft. They must be at least five miles apart at any given time.
'It's an intense working environment. I've not yet had a "do or die" situation, but I've had to deal with unexpected flights, medical emergencies, unresponsive pilots, and technical issues. In these moments, it's easy for feelings of self-doubt to creep in. To think, could I have done more?'
So, how does John's faith shape the way that he responds to these crunch points?
'My colleagues often remark that I'm patient and calm – but I often can't pinpoint anything I've done to make that happen. It's all God. He's at work in me and with me. When there's a potential crisis, the adrenaline kicks in and you don't have time to think about anything else. It's afterwards I'm able to take time to reflect on how God was with me, guiding me and sustaining me. I always take a moment to thank him once the situation's passed, and it's then I feel his peace and am aware of his power and sovereignty.
'The high-intensity situations mean you're never working for more than two hours at a time without a break. And, in your breaks, you're encouraged to completely switch off. There's a gym, TV room, snooker table, darts board, and even a dormitory if you fancy a quick kip.'
To cool his jets, John enjoys escaping the stresses of directing planes by making himself a cuppa and diving into a good book – though he does admit that the tea selection isn't a patch on what it would be in the UK. 'No Yorkshire brews here,' he laughs, lamenting the loss of home comforts.
And he's not alone. A large percentage of his colleagues are expats, too. This shapes the culture of the control room. John loves the melting pot of cultures, nationalities, and languages that make up his workplace. He also relishes the opportunity he's been given to live abroad; in his spare time, he enjoys mountain biking 'in the famous Dutch hills', as he says with a wry smile.
But the expat life's not always glamorous. Separation from family and friends takes its toll. John and his wife, Sarah, have found it hard. And it's something John's colleagues struggle with, too – especially because the nature of shift work means that their weekly pattern is very different to your classic 9 'til 5. But, as a couple, they've seen this deep loneliness as an opportunity and grabbed it with both hands by welcoming John's colleagues into their home. Over curries and cups of tea, they've had opportunities to build community, to minister grace and love, and sometimes to speak of their personal relationships with Jesus, the friend who sticks closer than a brother.
And the culture of the control room as a workplace is also challenging. It's male-dominated, meaning crude jokes and crass comments are commonplace. Each day, John consciously seeks to mould the culture around him by not engaging in these conversations, all because he believes that women and men are precious and equal in God's sight.
'There's also a lot of criticism. I'm still a trainee controller. A lot of my seniors take the stance that they suffered through their training and so I ought to suffer through mine – that it's a rite of passage. There are no permanent contracts 'til you're qualified. This adds additional stress and pressure.'
For John, that culture of negativity is a challenge, but it's also an opportunity for kingdom work. As he goes through his career and gains greater influence over the way people are trained and treated, he'll have the chance to reject the idea that suffering must be passed on in the control room – and model godly character not just in the work he does, but in the way he helps others do theirs.
So, next time you see contrails in the sky or brave the check-in queue, pause and thank God for the unseen but incredibly important crew of controllers sitting in control rooms across the globe who keep the planes spinning. And think of John and other Christian controllers who are working with God to minister grace and love, mould and renew culture, and be messengers of the gospel, right where they are.
Stephen was speaking to Sophie Sanders, Marketing & Communications Executive, LICC