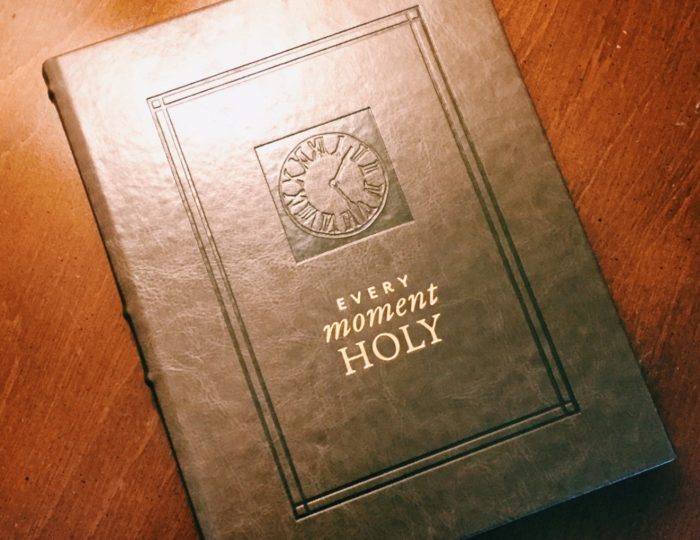 11.08.2020
LICC reccomends: Every Moment Holy by Douglas Kane McKelvey
Most books speak to you. This is a book that speaks for you. Most books are meant to be read from front to back. Every Moment Holy makes sense whichever page you start from. Most books are read once before finding their homes on shelves. To put Every Moment Holy on a shelf would be to keep it at a distance from the beauty, banality and brokenness of your everyday life – precisely the place it is meant to be read, re-read, and read again.
The author, Douglas Kaine McKelvey, has crafted a set of liturgies like you've never heard before. And if you just read the word 'liturgies' and immediately thought 'dreary call-and-response', you've nothing to fear. The liturgies that fill Every Moment Holy bring the theological richness of gathered worship out of our church buildings and into the grit of real life.
Here is a set of prayers for ordinary Christians in everyday places. Prayers for workers ('For One Who Is Employed'), busy parents ('For the Hurried Preparation of a Meal'), readers ('Lament upon the Finishing of a Beloved Book'), performers ('Before Taking the Stage'), and social media addicts ('For Those Flooded By Too Much Information' amusingly precedes 'For Those Who Covet the Latest Technology', in turn making way for 'For One Battling a Destructive Desire').
This book doesn't try to convince you that your everyday life matters to God – instead, it just assumes it does. McKelvey wants to show you how to reach for eternity in the times and places we all believe matter to God but so often overlook. Are you paying bills, having your electricity cut off, randomly thinking of another person, feeling awkward in a social gathering? Here are the words for those prayers that you didn't have the words for.
You do not call me to be cool, to be sophisticated, to be
charming, to be the life of the party.
You do not call me to be a social butterfly or to
work the room.
You call me simply to love,
even in my own bumbling way.
Somehow use my very weakness, O God,
in the service of your kingdom.
(Extract from 'A Liturgy For Those Who Feel Awkward in Social Gatherings')
The prose of this review feel stilted in comparison to the beautiful turns of phrase McKelvey has laboured over. Neither is there the space to catalogue the treasure of liturgies you'll find in the first few contents pages. To see both for yourself, you'll just have to buy a copy.
I'd lend you mine, except that it's already getting tattered, coffee-stained and bent out of shape. Which reminds me of what a guitar-builder once said to me when I worried aloud to him that I had put a dent in his work: 'it's meant to be played.'
I'm sure Douglas Kaine McKelvey would say the same if he saw my copy of Every Moment Holy.
—
Tim Yearsley
Programme Leader – Emerging Generations