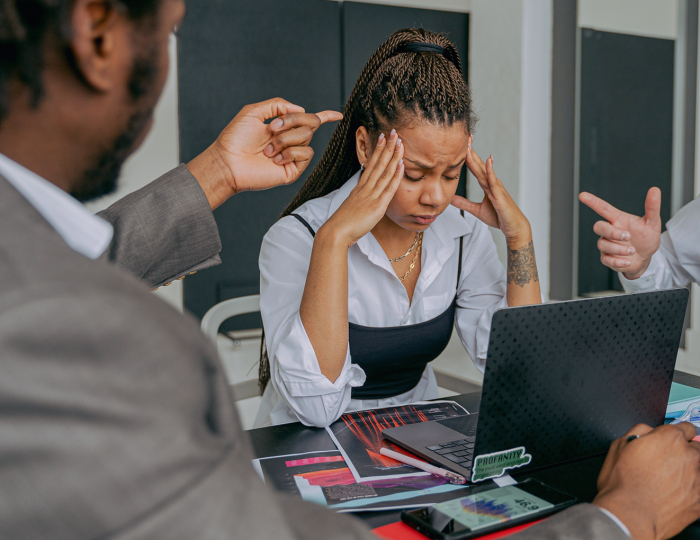 Daniel 3: Facing challenges in the workplace – because our Lord is faithful
This is the third in a series of four blogs introducing the themes we'll explore at our forthcoming Daniel Bible Day and Evenings – looking at Daniel's wisdom for the workplace in 2022.
—
King Nebuchadnezzar made an image of gold, sixty cubits high and six cubits wide, and set it up on the plain of Dura in the province of Babylon. He then summoned the satraps, prefects, governors, advisers, treasurers, judges, magistrates and all the other provincial officials to come to the dedication of the image he had set up.
[…]
[A]s soon as they heard the sound of the horn, flute, zither, lyre, harp and all kinds of music, all the nations and peoples of every language fell down and worshiped the image of gold that King Nebuchadnezzar had set up.
At this time some astrologers came forward and denounced the Jews. They said to King Nebuchadnezzar […] 'there are some Jews whom you have set over the affairs of the province of Babylon—Shadrach, Meshach and Abednego—who pay no attention to you, Your Majesty. They neither serve your gods nor worship the image of gold you have set up.'
Daniel 3:1-2, 7-9, 12
Let's face it: as Christians, sometimes we're faced with impossible choices!
In Daniel 3, Daniel is missing and we're not told why. Now the spotlight falls on his three co-workers. They have one simple task. Perhaps not a surprising one in an autocratic workplace: worship the emperor, do it publicly, and do it now. They also have a problem, ably summarised in the response the three give to king Nebuchadnezzar:
'We will not serve your gods or worship the golden image that you have set up.' (Daniel 3:18) The consequence was also simple: death in a fiery furnace. Yet the three were confident: 'Our God whom we serve is able to deliver us from the burning fiery furnace, and he will deliver us out of your hand, O King.' (Daniel 3:17)
I don't know about you, but I've never faced a fiery furnace. Well – I did once tour a client's factory, complete with furnace , but there didn't seem to be much danger of being pushed into it. But many of us have had that sinking feeling at work when we suddenly realise that our faith is going to collide with a request. When compliance is demanded swiftly, and with no space for debate. Here are a few situations I've come across in my working life so far; do any resonate with you?
'We need this contract really badly and the payment isn't a bribe, it's a 'cultural facilitation agreement' with the authorities here. We must be respectful to them.'
'Sorry, but I need you to work this Sunday and probably the next weekend too – it's critical. Can your team do it? Our client has a deadline Monday week. I'm counting on you!'
'I had no idea my repeated reference to Jesus Christ was in any way offensive to you. Please just get over it, everyone else uses this term round here.'
'Please take the lead in this religious blessing ceremony on our behalf for our new enterprise: it's respectful, it's cultural, and will bring us good luck. You don't have to believe it…'
'I can assure you this role will go very well for you – but I'd rather you didn't bring up this particular issue with management. It could affect my career – and, by implication, yours.'
Hardly burning furnaces, you might say, but dilemmas nonetheless. Many of us face variants of these situations so regularly they have perhaps become the norm – even in workplaces that pride themselves on policies of welcoming staff to 'bring their whole selves and faiths to work'. How will we react? How do you react?
For those three friends of Daniel, Shadrach, Meshach, and Abednego, there was no compromise. They trusted their Lord God to rescue them from their predicament. And even if he did not, they were clear that they would honour him anyway. Idolatry, including the love of self, money, or prestige, is a seductive threat to many of us. However, as Christians there is only one Lord, and he does not tolerate rivals!
The miracle of the story was that whilst King Nebuchadnezzar ordered three workers into a furnace, he observed four wandering around in it, entirely unsinged. It seems the Lord himself was with his faithful people as they obeyed him. I have found numerous times in my career that the Lord does not remove us from these dilemmas and challenges, but he is always with us as we humbly wrestle and stand up for what we know to be true. He never leaves us or forsakes us (Hebrews 13:5).
—
Steve Osei-Mensah
Work Forum Director, LICC