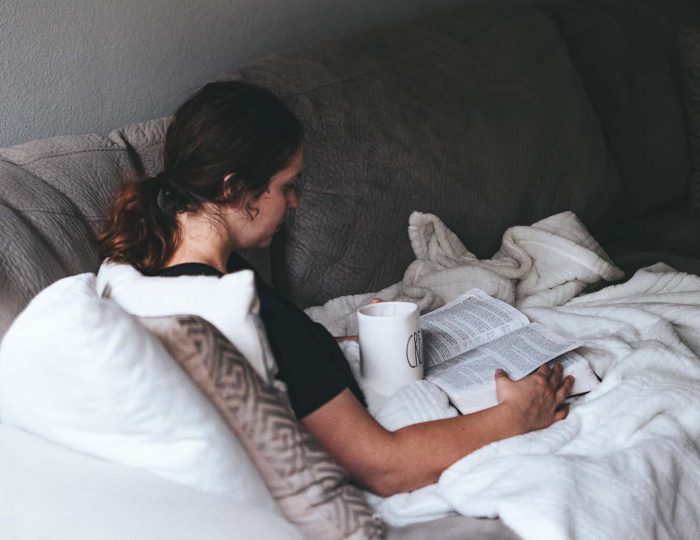 The Bible and Mental Health | Elijah's Troubles: Caring for the Whole Person
[Elijah] himself went a day's journey into the wilderness. He came to a broom bush, sat down under it and prayed that he might die. 'I have had enough, LORD' he said. 'Take my life; I am no better than my ancestors.' Then he lay down under the bush and fell asleep. All at once an angel touched him and said, 'Get up and eat.' He looked around, and there by his head was some bread baked over hot coals, and a jar of water. He ate and drank and then lay down again. The angel of the LORD came back a second time and touched him and said, 'Get up and eat, for the journey is too much for you.'
1 Kings 19:4–7
—
The story of Elijah fleeing to the desert, scared by the evil queen Jezebel, is well known.
Often, we tell the story of Elijah's defeat of the prophets of Baal, followed quickly by his time in the desert, where God's 'still small voice' reassures him. Yet in between these two events, Elijah treks in the desert – forty days and forty nights. Elijah does not suddenly get better from his deep desperation and wish to die. Nor does God's appearance on its own suffice to console him.
The desert is a place of absence, of deprivation. Elijah, like many in pain, feels isolated and alone. Suffering has a way of cutting us off, of disconnecting us from people, God, and the world. Elijah prays, but does not wait for an answer – he probably does not want an answer.
And God knew that. An angel appears, and does not try to argue, or comfort, or say anything. God's messenger comes and cares for Elijah's body, with food and sleep. When someone struggles with their emotions and wellbeing, the whole person suffers, and to care for them means caring for the whole person. The angel does not bring Elijah back to ministry, but recognises Elijah needs time out to heal, to work out who he is in the world and where God is. In other words, the prophet went on sick leave.
It is tempting, when we or others struggle with mental health, to try to find the right words, to argue people out of feelings, of emotions or depression. But this treats mental health as a cognitive issue, rather than as a whole person issue that cannot be solved merely through reasoning. It is also tempting to try to chivvy someone, get them to 'do' something. Here, God's wisdom is to care for Elijah physically and give him time; God comes in the quiet of the desert, and will only reveal himself in the gentlest, softest way when Elijah is finally ready.
God's wisdom, unsurprisingly, matches what we know from science and psychology: that a person who is deeply troubled needs time and space, and that to care for their body is to care for their mind and soul too. And so, when we meet someone who is struggling, we, too, can choose not to reach for words too soon, but care practically, and offer safe, gentle spaces of refuge – even though there is no telling how long recovery may take.
—
Revd Prebendary Dr Isabelle Hamley
Secretary for Theology and Theological Adviser to the House of Bishops
How might you offer a space of refuge for someone else who is struggling with their mental health? Join the conversation in the comments below. 
Watch and discuss our event Wisdom Lab: Strength in Weakness where Isabelle, along with Revd Dr John Swinton and Revd Dr Chris Cook, explores how as Christians God works in and through our limitations and struggles.