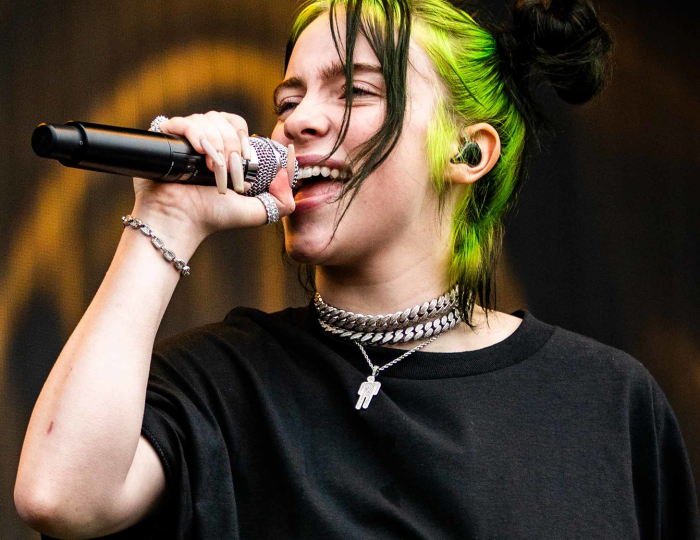 21.02.2020
Teen Spirit – The Billie Eilish Way
'Thank you to my best friends Drew and Zoe for keeping me alive to this day.' So spoke Billie Eilish in one of her five (!) winner's speeches at January's Grammys. It didn't sound like a joke. It didn't sound like hyperbole. It sounded like the truth.
And it is this very truthfulness, combined with a great deal of musical talent, that seems to have propelled Eilish to global stardom at 18, after just one album, winning the International Female Solo Artist award at Monday's Brits, and becoming the youngest ever singer of a Bond theme.
Her songs explore, amongst other things, her depression, her anxiety, her suicidal thoughts, her jealousy, her disdain of machismo, and her fantasies of control. And they do so without a smidgen of self-pity or sentimentality or posturing. It's a compelling blend of fragility and intensity, of woundedness and defiance, of sharp wit and sometimes disturbing, though not self-indulgent weirdness.
But at low volume.
Eilish's whispered, sometimes mumbled words are no less emotionally powerful for not being boomed out at Adele-like volume. Indeed, her pared-back vocal style, her creative phrasing, the simplicity and originality of the musical production, and her avoidance of the glitzy tropes of pop divadom all contribute to an authenticity which not only resonates with her own generation, but has showered her with the plaudits of older ones.
After all, you don't need to be a soldier to engage with the Davidic psalms and their oh-so-frequent references to enemies and lethal threat. And you don't need to be a teenager to engage with Eilish's laments about anxiety, low self-worth, and self-destructive passion. As with the psalms, there is comfort to be found in knowing that someone understands, that someone else has been in the dark places you find yourself. And can't seem to find a way out.
Eilish's excellent work is made more sobering by the reality that she sings not only of what she knows, but of what so many young people experience every day – and may be concealing behind similarly inscrutable faces. In the context of our mental health crisis, her popularity is yet another reminder of our need for eyes to see, ears to hear, and songs to sing – not just of human understanding, but, like David's, of divine hope.
Mark Greene
Executive Director, LICC
Photo credit: © Lars Crommelinck Photography