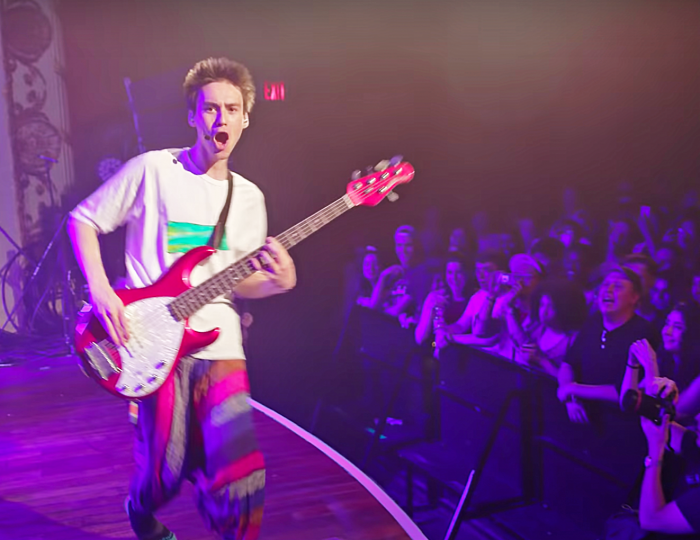 28.08.2020
Why Does Jacob Collier Make Me Cry?
I found myself crying at my desk this week.
To explain why, I need to tell you about a man called Jacob Collier. A multi-instrumentalist and all-round genius, he found fame on YouTube before embarking on a glittering career. So far he's won four Grammys and collaborated with a veritable galaxy of stars. He plays with incredible technicality, but it's matched by a boundless joy. Seeing him perform is like watching Mozart on a bouncy castle.
But the really special thing about Jacob Collier is the reaction he gets from people – which brings me back to my desk. I decided to spend my tea break the other day watching this video of Collier performing in Toronto, and before five of its nine minutes had passed I was all but sobbing with joy.
Now, I'll admit to being prone to this kind of emotion, but it's not just me. Watch the video and you can see the same euphoria written on the faces of the audience – in the massive grins, the banging heads, the sheer open-mouthed wonder of the young woman at 08:00.
What's going on here? Why does Collier's music – and all music we connect with – do this to us?
The way music prompts emotion can seem mysterious but, really, it's not mysterious at all. Good, joyful music like this is creation reflecting God's glory, something Jesus alludes to in Luke 19:40 – the laws of physics that he wrote singing his praises back to him.
When Collier lets rip, we're seeing the image of the Creator shining out of his humanity. And when we react emotionally, we join in, wordlessly praising God's greatness.
But it's not just God's greatness we perceive through music. It's his love. The euphoria I feel watching Collier perform is a partial preview of the new creation – the joyful awe of standing in God's presence as an adoptive son.
This, for me, is what Collier's music does so well. It reflects the glory and love of God. And it prompts an emotional response – an unpremeditated act of worship on our part.
Watch the video and spend some time in the presence of the awesome, loving God. Then share the music that prompts worship in you – in the comments or with your friends. Good music is a gift from our Father. Let's pass it around.
Josh Hinton
Marketing & Editorial Lead, LICC