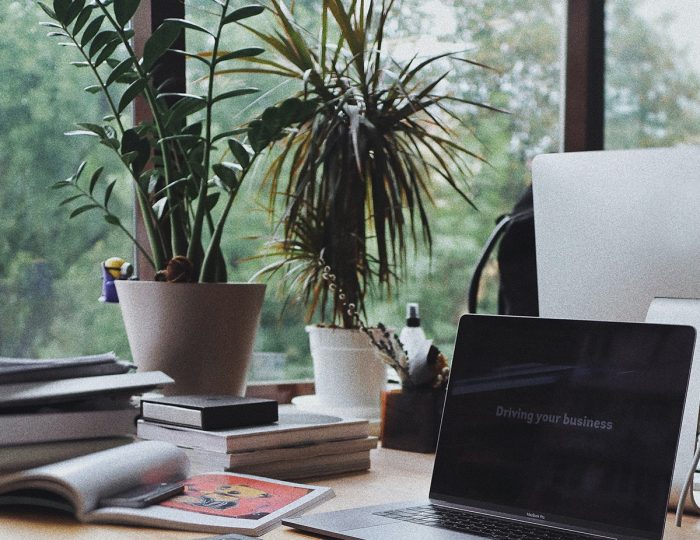 29.04.2020
Fruitfulness vs. Busyness
Don't forget: Drink water. Get sunlight. You're basically a house plant with more complicated emotions.
So goes the meme currently circulating on social media. It's been around a while now, but its prevalence has increased in the past few weeks as many people have moved to home working, and lockdown restrictions mean time outside is further limited.
If you're anything like me, you'll have found that working from home gives you ample chance to beat yourself up about things. Was my coffee break too long? Should I have started work earlier or finished later? Am I taking the same number/length of breaks as I would if I was in the office? Should I fill in a time sheet? Should I have sent that tweet during working hours? Is it acceptable to work in my slippers?!
These are all important questions, and it's right and good to hold yourself accountable, but when I (inevitably) find myself falling down such thought spirals, I find it helpful to focus my mind by asking myself one simple question:
Am I equating fruitfulness with busyness?
In a culture of timesheets, KPIs, and email notifications on our phones, it is becoming ever easier to mistake busyness for fruitfulness. But they are two very different things. Busyness is, well, being busy… doing things without, perhaps, producing much at all. You can be very busy and not at all fruitful. But you can be fruitful without being busy… just consider a plant!
How does God define fruitfulness? In John 15, Jesus speaks to his disciples:
'Abide in me, as I also abide in you. No branch can bear fruit by itself; it must remain in the vine. Neither can you bear fruit unless you abide in me. I am the vine; you are the branches. If you remain in me and I in you, you will bear much fruit; apart from me you can do nothing.'

JOHN 15:4-6
To be fruitful then, needs time spent abiding in God, and allowing him to set the agenda. Not our own expectations, not the expectations of our colleagues, but God himself.
Perhaps fruitfulness today looks like doing every task to the very best of your ability in the knowledge that you are working for God, not for people (Colossians 3:23-24). Perhaps it is finding ways to surprise and delight your colleagues with an encouraging email, or a funny video you know will make them laugh. Or perhaps it's as simple as stopping what you're doing, quelling the busyness, and being still, abiding in God.
The Bible has many examples and encouragements of finding and hearing God in the stillness – his promise to make us 'lie down in green pastures' and lead us by 'quiet waters' in Psalm 23, Elijah's cave in 1 Kings 19, Jonah in the belly of the whale, Jesus in the desert or a solitary place (Matthew 4; Mark 1:35), and of course David's exhortation in Psalm 46 to 'be still and know that I am God'.
How would our working day change if we took 10 minutes each morning to cast the weight of our work back onto Jesus? Trying the Jesus prayer ('Lord Jesus Christ, Son of God, have mercy on me, a sinner') alongside some simple deep breaths for a few minutes can help refocus and refresh our minds, removing the idol of busyness from its dictatorial throne.
As we learn to leave the weight of our work with Jesus, our gaze turns outwards and we can look to bless those we work alongside – even from a distance. Maybe that looks like video-chat based coffee breaks or learning a new skill together as a team. Just yesterday my housemate spent 15 minutes on Microsoft Teams with the rest of her office being taught how to juggle by a colleague. I'm unsure how successful she was (the balled-up socks flying across the room suggest that it's a work-in-progress) but it certainly brought the whole team together from all around London and further afield.
Whether or not you're being taught – or teaching others – how to juggle, your frontline impact as a Christian may also be affected by the lack of physical closeness to your colleagues. With less chance to minister grace and love or mould the culture of an office space, you may feel like you have no way to display Christian values. But every challenge can also be an opportunity.
One of our Executive Toolbox alumni recently reflected that, in his experience, people give far more honest answers to genuine questions like 'how are you?' when working from home. Such uncertain times filled with change and a 'new normal' can illicit a whole bunch of emotions as well as new challenges and unexpected joys for each of us.
What would it look like to take five minutes at the beginning of each meeting to genuinely enquire after the well-being of your colleague(s)? It's unlikely to interfere with work any more than making small talk would and will likely make your time together more fruitful – in output as well as relationship.
This new way of working from home may make you feel like a hard-pressed houseplant with more complicated emotions, but there is hope. For Jesus, God himself, invites us to join him in his endeavours – and his yoke is easy, his burden is light.
—
The second part of 'A Prayer for Working from Home' by Will Sorrell:
As I rely on technology to traverse the world outside my dwelling,
let your Holy Spirit minister to the souls and bodies I email and call.
Though I am absent in the flesh, make others present with you through me.
Help me to notice the emotions in their eyes on a videoconference.
Help me to give care to the tones and tremors in their voices.
You who made time and space and planted us to live and work within them,
let my love for my co-workers and customers not be bound by proximity,
but rather let my finite self trust in your infinite good pleasure.
O beloved Intercessor who never slumbers or sleeps,
allow my midday rhythms of rest to be an act of prayer.
As I fix food and refill my glass, give me pause to give thanks.
As I sip water to quench my thirst,
as I taste leftovers to satisfy my stomach,
fill my teammates,
my boss,
my clients,
my suppliers,
my acquaintances with good gifts.