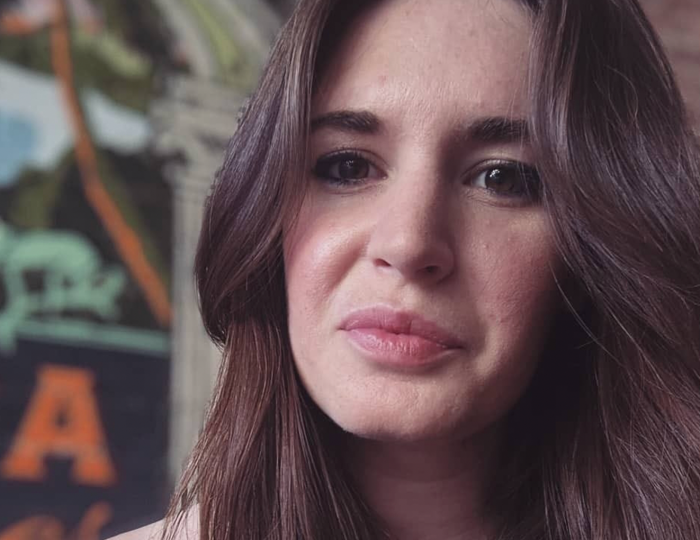 Because of LICC | Emma Holland: Creating with the God of Small Things
Four ordinary Christians share their transformative experiences with LICC – and how God's working through them today.
An alumna of our 2021 Emerging Leaders course, Emma Holland is Creative Manager at Pray as You Go, a daily prayer app and podcast produced by the Jesuits in Britain. It reaches hundreds of thousands of people around the globe, both Christians and non-Christians.
'Pray as You Go's mission is "to accompany people on their daily journeys and life paths through music and Ignatian spirituality",' Emma says, 'which is all about noticing God in every part of your life, and joining him in action. So it's really whole-life focused!'
Despite having an obviously 'Christian' job, she wanted to explore how the nuts and bolts of her work – producing audio, managing a team, dealing with stressful situations – fit into her discipleship. And above all, she wanted to learn what Christlike leadership looks like when you're really not feeling managerial.
'I was drawn to Emerging Leaders by a video LICC released discussing impostor syndrome,' she says. 'It's quite culturally specific to my generation of workers – and the course helped me realise others were in the same boat, that God has created me the way I am, that there's nothing wrong with me. More broadly, it was really helpful to discover a deeper theology of work that was super applicable to my work.
'For example, we recently had a bit of a breakdown of internal communication at work, and I found the material we'd covered so helpful in dealing with it. There's a moment in Luke 9:46–48 when Jesus' disciples are having a fight over who's going to be the greatest in the kingdom of heaven, and he gathers them all together and talks to them, using the example of little children's humility as the ideal to aspire to.
'It was so helpful to see how Christ managed his followers in a situation like that. He could have just yelled at them, but instead he's compassionate, he communicates. It helped me see you can transform work situations by leading like Christ did – which is true whether you're in "Christian" or "secular" work.'
For Emma, the exciting thing about her job is seeing God working in the tiny details of the creative process, honing each day's podcast to equip his people around the world. 'The nature of my work last year was focused on creative tasks, so it was really helpful looking at God as the creator, and the wider purpose that revealed behind my work. He's put his creative ability in us, so how can we steward that well? Even small creative things can be done well.
'I see that idea worked out day by day as a producer and creative manager. There've been lots of decisions on design or audio editing that have surprised me, and I think often that's God's creative activity working through me.
'For example, I might go into a project assuming it's going to look like this, and then through prayer or prompting I'll realise God's asking me to move in a different direction, or change something that's going to be more effective. And then a few days later I'll get people emailing to say they experienced God's presence through that day's podcast, and you can trace it to God working in those decisions.
'I feel like that's something people in creative work need to hear: it's valuable to God, he can work through those little moments, and it reflects his character. You're re-enacting the creative action of God in the beginning and now. It's good, kingdom work!'
For Emma, whole-life discipleship isn't just about the work she does. Her colleagues may be mostly Christians, but that doesn't change her call to join Christ's redemptive work in those relationships.
'Your colleagues are always your frontline, because you're always representing God to them. You're always an envoy. Everyone can continue being transformed by the gospel even if they're already Christians – you can be part of their sanctification and experience of the gospel, which can be a bit of a pressure! But wherever you are, you're always representing Christ to someone, whether directly or indirectly.'